Science Communication in the Social Media Age with Galactic Gal
Science Communication in the Social Media Age with Galactic Gal
The Student Empowerment in Cybersecurity and Engineering Program invites you to join us for From Apollo to Artemis: Humanity's Return to the Moon with Galactic Gal on April 28th from 5:00-6:00pm to connect with Camille Calibeo, known as Galactic Gal, as she speaks on the WHY and HOW of humanity returning to the moon.

Camille Calibeo
Aerospace Engineer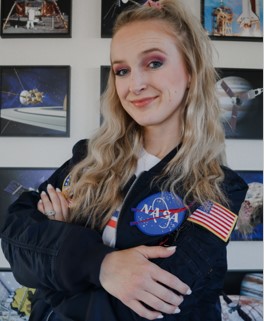 Camille Calibeo is an aerospace engineer turned business strategist in the space industry. She currently works at Orbit Fab, a space startup building gas stations in space to enable on-orbit satellite refueling. Prior to Orbit Fab, she worked at Lockheed Martin Space as an aerospace systems engineer on a variety of programs including Orion, the crew capsule that will return humanity to Moon this decade with the Artemis program. Camille is also a science communicator, and she educates about space and women in STEM on her social media platform, @TheGalacticGal (TikTok, Instagram, Twitter, and YouTube).Camille holds a BS in Aerospace Engineering from the University of Tennessee Knoxville, class of 2019.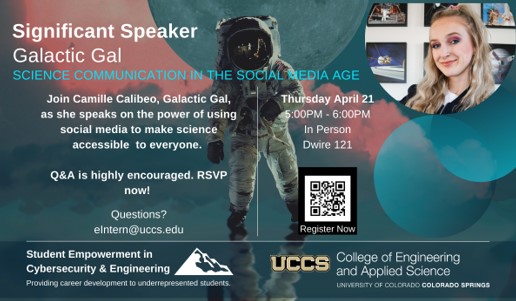 Q&A is highly encouraged! This event is in-person. Register now! Seats are limited. 
We hope to see you there!