Research is a critical educational component in the College of Engineering and Applied Science. Faculty in Computer Science, Electrical and Computer Engineering, and Mechanical and Aerospace Engineering pursue research in many diverse and specialty technical areas and receive millions of dollars of funding each year. Faculty research adds educational and research opportunities for graduate students and undergraduate students through research assistantships, thesis research, and individual and faculty-led undergraduate research projects.
Brown receives NSF grant to research interaction between machines and society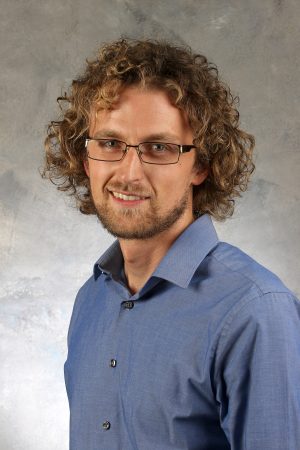 Wednesday, May 13, 2020
Philip Brown, assistant professor of computer science, received a National Science Foundation grant award of $250,472 for his project titled "Socially Networked Autonomy: How Should Machines Interact with Society?" The three-year award will additionally fund a full-time Ph.D. student to assist in research.
The project studies decision design methodologies for independent agents that network with human societal systems. Brown explained that one of the main motivating questions for this project is "how selfishly should self-driving cars behave?" Naive designers might program a vehicle to be altruistic — that is, to behave in a way that attempts to "make life better" for all the cars around it. However, prior work has shown that is not always a good approach, and that in some scenarios it is actually better to make self-driving cars completely selfish and ignore the benefits to others completely. In this project, the mathematics of this and other similar situations are researched to seek a fundamental understanding of when and why altruism can paradoxically backfire and lead to unintended consequences.
Kratos donates channel simulator to UCCS Engineering Lab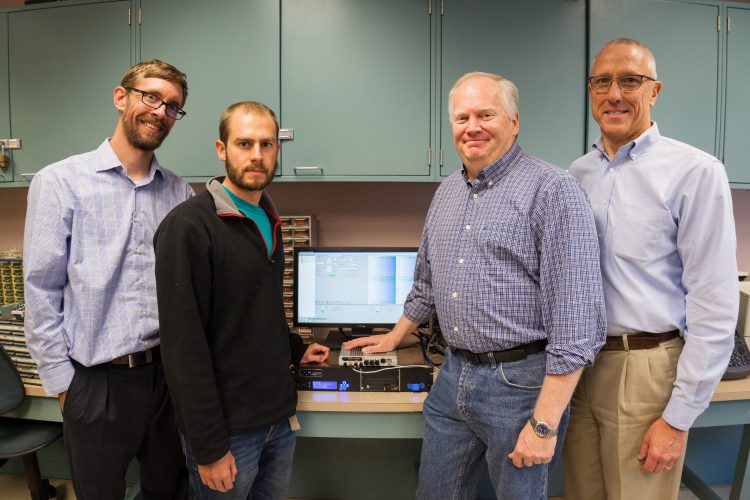 Electrical and Computer Engineering
December 10, 2018
UCCS electrical engineering students will now be able to study and analyze communication signals between platforms such as ground stations, satellites, airplanes, UAVs/drones, or missiles thanks to an in-kind gift of a channel simulator from Kratos and its local subsidiary, Kratos RT Logic. This provides UCCS students with the ability to easily create signals in the laboratory that precisely match those that occur in space or in Earth's atmosphere.
Five researchers featured on "The Academic Minute" during week of June 15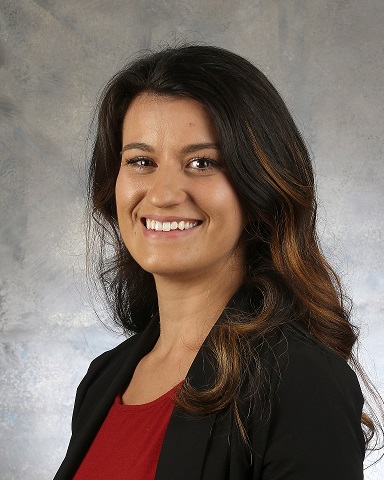 Mechanical and Aerospace Engineering
June 12, 2020
In a week titled "Women in STEM Takeover," five UCCS researchers will be included in the daily "The Academic Minute" produced by WAMC with support of the Association of American Colleges and Universities.
The lineup of researchers are:
Computer Science Research Labs
Electrical and Computer Engineering Research Labs
Cadence University Program

The Department of Electrical and Computer Engineering at the University of Colorado at Colorado Springs is a Cadence University Program Member. All Cadence tools are available for use by faculty, staff, and students affiliated with the University for use on academic research projects only and class work. This web page provides information on how software donated from Cadence Design Systems is used by the faculty and students of the ECE department.

ECE 4220/5220 Analog IC Design
ECE 4270/5270 RFIC Design
ECE 4340/5430 VLSI Circuit Design I
ECE 4260/5260 Mixed Signal design
ECE 4242/5242 Advanced Digital Design Methodology

Web page and software currently maintained by EAS-IT
eas-helpdesk@uccs.edu
Last Modified: October 7th, 2017.
Cadence is a registered trademark of Cadence Design Systems, Inc.
2655 Seely Avenue
San Jose, CA 95134

Communications and Signal Processing Laboratory (CSPL)

This lab provides a focus for sponsored and un-sponsored research in communication systems, communication theory, and signal processing. Research projects have included analyses, computer simulation, and hardware experimentation involving spread spectrum communications, space communications, and wireless mobile communications.

Control-Systems Laboratory (CSL)

The CSL comprises a number of student and research work centers. Each work center has at least one device to control, which includes Educational Control Products (ECP), Magnetic Levitation and Control-Moment Gyroscope systems, and a Rhino Robotics six-degrees-of-freedom robotic arm. Each center has a full complement of test-and-measurement equipment. This laboratory is run jointly with the Department of Mechanical and Aerospace Engineering.

Electromagnetics Laboratory (Anechoic Chamber)

Electronics Laboratory (ECL)

This lab is used for instruction in basic circuits design, digital circuits design, microcomputer systems design, and electronic circuits design. The laboratory is equipped with personal computers, power supplies, function generators, oscilloscopes, logic analyzers, and other components needed to support required laboratories in the Electrical Engineering and Computer Engineering curriculum. This laboratory also houses stations for embedded systems design.

Electromagnetics Laboratory (EML)

The EML supports programs in the areas of wave propagation, microwaves, antennas, and metrology. Undergraduate and graduate laboratory courses have been developed in the areas of microwaves, millimeter waves, and infrared (IR) diagnostic techniques to support the existing courses in electromagnetic theory. These laboratory facilities provide students with measurement techniques and skills in the radio frequency (RF), microwave, millimeter wave, and IR wavelength regions. The EML contains a large broadband, shielded microwave anechoic chamber.

GATE Center of Excellence in Innovative Drivetrains in Electric Automotive Technology Education (IDEATE)

Principal Investigator:

Co-Principal Investigators:

Dr. Regan A. Zane, University of Colorado Boulder (CU-Boulder)
Dr. M. Scott Trimboli, (UCCS)
Dr. Dragan Maksimovic, (CU-Boulder)

PROJECT OBJECTIVES

This is a critical point in history where advanced engineering solutions are required to propel the U.S. automotive industry irrevocably to the next level: the electrified drivetrain. The present workforce is not sufficient to this task. It is imperative that automotive engineers with traditional backgrounds focused on internal combustion and mechanical drivetrain technologies be retrained with the most current advanced solutions in battery controls and vehicle power electronics. For the long-term success of the U.S. automakers, it is even more important that a future workforce be developed that has both broad and deep comprehension of the issues involved and the most advanced solutions known to these problems.

Two campuses of the University of Colorado system are uniting to submit this proposal to establish the GATE Center of Excellence in Innovative Drivetrains in Electric Automotive Technology Education (IDEATE). The University of Colorado Boulder (CU-Boulder) is widely regarded as having one of the top graduate programs in power electronics in the country; the University of Colorado Colorado Springs (UCCS) has unrivaled expertise in algorithms for automotive battery control. By collaborating, IDEATE will build on our team's proven strengths to develop innovative curricula and to initiate courses and programs that will provide students with a unique opportunity for holistic and specialty education in electric drivetrain technology. Graduates from these programs will provide benefit not only to major automotive manufacturers, but also to new electric drivetrain focused small businesses and suppliers. Specifically, IDEATE has four principal objectives, which are illustrated in Figure 1:

Establish graduate certificate in electric drivetrain technology: UCCS will develop two new courses in battery modeling for controls and in algorithm development for high-capacity battery pack controls. CU-Boulder will develop a new course in power electronics for electric drive vehicles, and will refresh an existing course to focus on design of adjustable speed AC drives. These four graduate courses will form a new graduate certificate in electric drivetrain technology that will be offered jointly by both campuses and will be available to both continuing-education and on-campus students.
Establish graduate degree options to educate a future workforce: Leveraging the new courses developed for the graduate certificate in electric drivetrain technology, and strength of the existing curricula, both campuses will establish new Masters of Science in Electrical Engineering (MSEE) degree options. UCCS will offer an option in battery controls, including a new course in methods of optimization; CU-Boulder will offer an option in vehicle power electronics.
Support fundamental research to develop new enabling technology: The new courses will provide background enabling PhD research in areas critical for the long-term success of the electric drivetrain.
Have local appeal but national impact: Leveraging already strong on-line course and certificate offerings, all of the new courses and the graduate certificate in electric drivetrain technology will be made available on-line, enabling students anywhere in the country to complete their coursework without the need to relocate to Colorado.

Microelectronics Research Laboratory

Microelectronics Research Laboratory (MRL) is a group of related laboratories supporting all aspects of microelectronics, including fundamental microelectronic device modeling and processing, integrated circuit design and fabrication. MRL links the efforts of the following associated laboratories: (1) Advanced Development Laboratory (Class 100 cleanroom), (2) Device Characterization and Analysis Laboratory, and (3) Advanced Materials Laboratory for undergraduate and graduate students. The Microelectronics Research Laboratories have supported the National Science Foundation and NASA funded research projects. Several well-established companies have spun out of MRL-supported activities, including Ramtron and Symetrix. Areas of research in the MRL include: a) Non-volatile memory based on Complex Oxides. b) Non Volatile memory based on nanocrystals. c) Bio detectors. d) Tunable devices for RF circuit applications (tunable filters, oscillators, and matching networks). e) Piezoelectric energy conversion.

Senior Design 228
Electronic/Emb Sys Lab 230
ECE Help Center 232
Advanced Robotics Lab 130
Mechanical and Aerospace Engineering Research Labs
Veeco di MultiMode V atomic force microscope
1nm x 5nm resolution
Scanning near-field optical microscope
Confocal microscope
TIRF microscope
Fluorescence spectrometer
Spectrophotometer (UR-Visible-IR)
Low-field NMR spectrometer
Flow cytometer
Real-time PCR system
Coulter counter
Centrifuges + water purifier

Chemistry Laboratory (Chemistry & Biochemistry)

Nuclear Magnetic Resonance Spectrometer, 400 MHz - Varian
Nuclear Magnetic Resonance Spectrometer, 200 MHz - Varian
Nuclear Magnetic Resonance Spectrometer, 60 MHz - Anasazi
Fourier Transform Infrared Spectrometer (2) - Perkin Elmer Spectrum One
Atomic Absorption Spectrometer - Varian SpectrAA
Fluorescence Spectrometer - Hitachi
Polarimeter (2) - Autopol II and IV
Refractometer (2) - Reichert Mark III
Gas Chromatograph/Mass Spectrometer (2) - Agilent 5890, 6890
Gas Chromatograph with Flame Ionization Detector - HP 5890
Gas Chromatograph with Flame Ionization Detector - Varian 3400 CX
Liquid Chromatograph with UV Detector - Agilent 1100
Liquid Chromatograph with UV Detector - Hitachi L7000
Microwave (2) - CEM Discover Monomode, Mars Multimode
Centrifuge - Sorvall Legend XTR

The EAS IT department maintains a centralized data center to provide computational resources for both instruction and research. The DataCenter maintains a vCenter environment with the following clusters:

CS Extended Study

10 Hosts, HP ProLiant BL 460c Gen9
6 CPUs x 1.598 GHz (Intel Xeon CPU E5-2603 v3 @ 1.60 GHz)
32 GB of memory

Instruction (EAS College, Instruction)

7 Hosts, DELL PowerEdge R810
24 CPUs x 1.994 GHz (Intel Xeon CPU E7540 @ 2.00 GHz)
192 GB of memory
4 Host, HP ProLiant BL460c G6
8 CPUs x 2.4 GHz (Intel Xeon CPU E5530 @ 2.40 GHz)
32 GB of memory

Research Development

8 Hosts, HP ProLiant BL460c G6
8 CPUs x 2.4 GHz (Intel Xeon CPU E5530 @ 2.40 GHz)
64 GB of memory

Research Simulation

6 Hosts, HP ProLiant BL460c G7
12 CPUs x 2.66 GHz (Intel Xeon CPU X5650 @ 2.67 GHz)
128 GB of memory

Datastores:

EAS-NAS01..EAS-NAS06 (Instruction, MAE Research)

9.09 TB storage space each (54 TB)

Instruction
Operation (EAS IT)
VDI (CLaaS)
EAS-DATA (EAS IT, College, Research)

5 pulsed Nd:YAG lasers 10mJ-10J/pulse; 1064,532,266nm
10mW continuous wave HeNe
2 butterfly mounted tunable diode lasers
Laser-grade optical components
Digital oscilloscopes (Gs/sec), NI DAQ, CCD

Solid State Laboratory

Rigaku SmartLab X-ray diffractometer
SQUID magnetometer
Vibrating sample magnetometer
Multiple-source sputter deposition system

Microwave Laboratory

Microwave network analyzer (500 MHz-110GHz)
Four-point probe

Nano-characterization Laboratory

Scanning electron microscope with lithography

Ultra-fast Optics Laboratory

Ultra-fast pulsed laser system
Far infrared spectrometer
Brillouin light scattering system
Magneto-optic Kerr Effect

Other

Two clean room facilities
Low-energy electron diffraction
Reflection high energy diffraction
Sylus profilometer
Auger electron spectroscopy
X-ray photoelectron spectroscopy
UV photoelectron spectroscopy
Near-field scanning optical microscope
UV/Vis/IR spectrometer
Ferromagnetic resonance systems (10GHz,24GHz,35-55GHz)
Giant magnetoresistance
Molecular beam epitaxy
Evaporation systems
Nano-particles
Mask aligner
Argon etcher

Wind Tunnel and Materials Laboratory

---

Wind tunnel: 12''x12'' test section, max velocity 30m/s
Instron 5582 universal materials testing machine: 250:1 range, +/-0.5% accuracy, 500Hz data acquisition rate
HardRocker HRS150 digital Rockwell hardness tester