Opportunities in STEM with U.S. Army Space and Missile Defense Command
The Student Empowerment in Cybersecurity and Engineering Program invites you to join us for Opportunities in STEM with the U.S. Army Space and Missile Defense Command on March 31st from 1:30pm-2:30pm to connect with Dr. Terry Carlson and learn more about the purpose, benefits, and opportunities that are offered to students by the SMDC. 
Dr. Terry Carlson and other members will discuss more information about the SUCCEED Program offered through SMDC in Colorado and Alabama. The SUCCEED Program equips and prepare underserved students in Alabama and Colorado to compete and succeed in STEM careers with the federal government and specifically at USASMDC.
More information about Dr. Terry Carlson: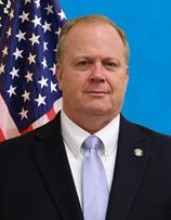 As the USASMDC Command Cyber Strategist, Dr. Terry Carlson is responsible for establishing and implementing the command's cybersecurity strategy. He works with command leaders, system owners, and external partner organizations to ensure cybersecurity is designed to provide mission assurance for all critical systems and key cyber terrains. Prior to his role at SMDC, he served as the CIO/G6 for PEO Aviation with responsibility for the command's network and enterprise systems and developing an open systems architecture to improve interoperability and cybersecurity for their tactical systems. Dr. Carlson has served in other roles such as Chief Software Architect, Director of the Army Architecture Integration Center (AAIC) and the Army's Chief Data Officer (CDO). Prior to coming to the Government, Mr. Carlson worked at a number of organizations with responsibilities ranging from Programmer, Network and Support team lead, Software Manager, Engineering Manager, Program Manager, and Vice President. Mr. Carlson served in the Army as a Radio Teletype Operator from 1984 to 1988 with assignments in the HQ Troop, 1st Squadron 4th Cavalry at Ft. Riley, KS, and HHQ, V Corps Artillery in Frankfurt, Germany. Mr. Carlson holds a Bachelor of Science in Computer Science and a Master's and PhD in Management Information Systems.
Oscar McCants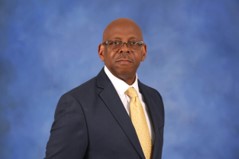 Oscar McCants is currently a research engineer and program manager at the University of Alabama in Huntsville. Mr. McCants works in the Center for Cybersecurity Research and Education and is responsible for the SUCCEED and STARS programs. SUCCEED focuses on students from underserved communities giving them special training in Cybersecurity and internships at SMDC which prepares them for employment opportunities after college graduation. The STARS program give students hand on experience in satellite communication and cybersecurity protection of assets.
Before joining UAH, Mr. McCants worked as a contractor supporting personnel security for US governmental agencies.
He also worked in the telecommunications industry with Companies such as GTE, AT&T and Telecorp for over 20 years.
When Mr. McCants in not in the office, he enjoys working in youth sports. McCants has worked as a coach in both girls' and boys' sports. Coaching football and basketball for over 15 years.
Mr. McCants holds a Bachelor degree from Faulkner University Montgomery, AL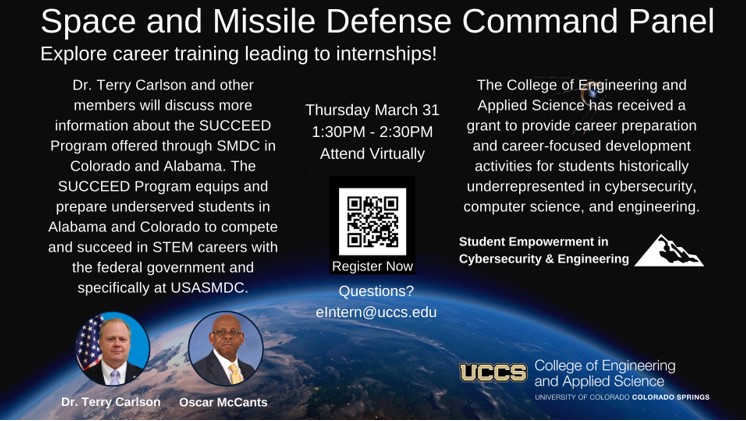 This event will be virtual. You can register now with the link below. 
Upon registering for this event you will have access to the meeting link. 
We look forward to seeing you there!
Sponsored by: Student Empowerment in Cybersecurity and Engineering Program, providing career development to historically underrepresented student groups in cybersecurity and engineering.
Questions? Email eIntern@uccs.edu