Boult wins first-ever Outstanding Research Mentorship Award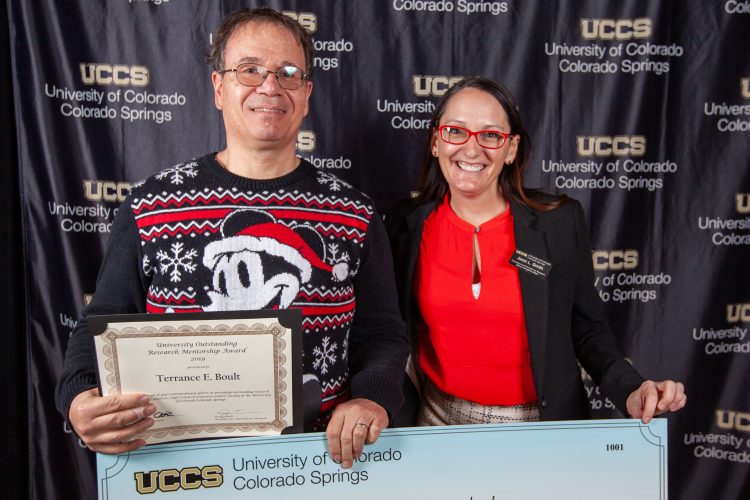 Friday, December 13, 2019
Terry Boult, El Pomar Endowed Professor of Innovation and Security, has been named the winner of the first-ever UCCS Outstanding Research Mentorship Award.
Provost Tom Christensen presented Boult with the award, along with a $1,500 cash prize, at Mountain Lion Research Day on Dec. 13 in Berger Hall.
"We are honoring an individual today who has helped to create a culture of giving back here at UCCS," Christensen said in remarks announcing Boult as the recipient of the award.
Six individuals nominated Boult for the award, including A. T. Chamillard and Rory Lewis, both associate professors of computer science, and junior Jonathan "Jono" Schwan, currently pursuing a Bachelor of Innovation in computer science. Rounding out the nominations were Ph.D. candidates Akshay Raj Dhamija and Steve Cruz and Abhijit Bendale '15, who earned his Ph.D. in computer science at UCCS and is now CTO of Star Labs.
Schwan, who names Boult as one of his mentors in computer science, wrote in his nomination letter that "one of [Boult's] most valuable and enduring accomplishments is his skill at mentoring and guiding others to success in their research."
[ Learn More ]